The Archives: 1982
---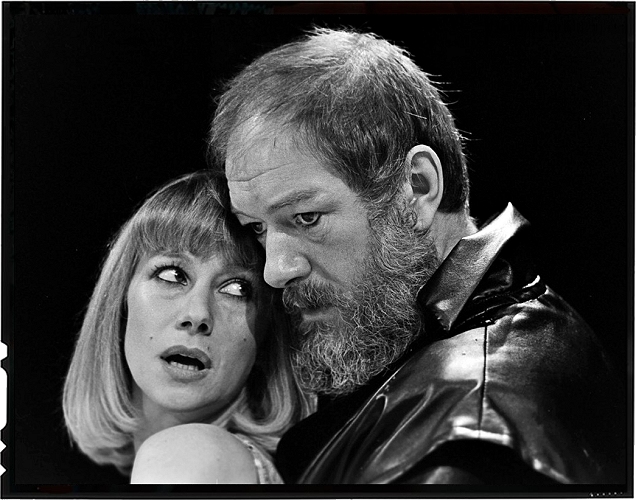 In rehearsal: Helen Mirren and Michael Gambon as Cleopatra and Antony for The Royal Shakespeare Company. With Ian Holm on the set of the telefilm "Soft Targets" for the BBC. Mirren posing with her Variety Club Award as Theatre Actress of the Year for "The Duchess of Malfi".
Adrian Noble's production boldly took a play associated with largescale spectacle and rendered it on the bare floor of the minimalist studio theatre, The Other Place. The stripped-down setting threw emphasis onto the skills of the actors, and Helen did not disappoint in the role of Cleopatra. Rather than relying on dripping jewelry, bobbed hair and the other cliches of Oriental exoticism, Mirren rapidly established her complete authority by means of "lightning emotional reversals". Her Cleopatra and Michael Gambon's Antony pushed "the temperamental polarities" of the roles well beyond the usual limits, according to Irving Wardle in the London Times. He added that "in Gambon's case this means a contrast between the public behaviour of a demi-god and a private life in which he regresses to the total sensuous depedence of infancy.
Nicholas Shrimpton, writing in the academic journal "Shakespeare Survey", aruged that the intimate space of The Other Place contributed to Mirren's performance: "Only inches from her audience, in a crowded studio theatre, she conducted a complex and tumultuous inner life with complete assurcance." He described the remarkable dephts she gave to the final acts: In mourning for Antony she contrived an extraordinary ruin of her beauty – squatting on a grubby blanket, dressed in black with her hair scraped back and ash and dirt on her face. More astonishing even that this, however, was the subsequent transition to her suicide. As Caesar left, she suddenly passed (on 'He words me, girls') from an extremity of violent grief to a serene perception of her fate. Mirren herself called this 1982 production her "best go" at Cleopatra.
The end of 1982 saw Helen's third and final collaboration with the BBC Shakespeare series on televison – playing Imogen in "Cymbeline". Mirren had already played the cross-dressing Rosalind in As You Like It, so was right at home here in a rather more intense role as the wronged, ultimately banished Imogen. As with many of Moshinsky's productions, script editor David Snodin was asked to make a number of changes to the original text, partly to streamline one of Shakespeare's more complex narratives (there is a great deal of intercutting between scenes), but also to intensify the emotional impact without what was felt to be unnecessary distraction – the later scenes in Wales underwent the most trimming. The end result was widely praised as one of the most wholly successful BBC Television Shakespeare adaptations.
Related Productions
December 20, 1982
October 19, 1982