The Archives: 1989
---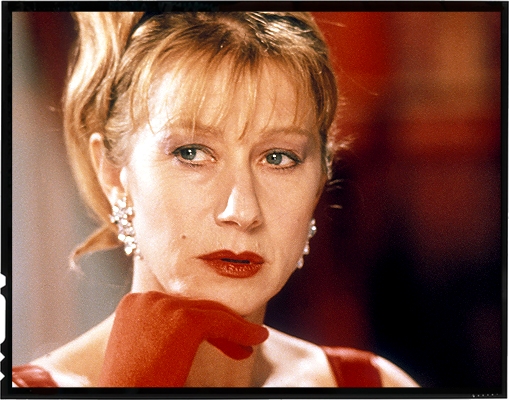 "The most provocative film of the decade" was a blunt statement by Miramax for a 1990 release. As Georgina, Helen Mirren pushed cinematic boundaries in "The Cook The Thief His Wife and her Lover." On set with co-star Michael Gambon and director Peter Greenaway. During rehearsals for "Two-Way Mirror" at the The Young Vic.
After a string of small screen appearances and box office disappointments, Helen Mirren closed the decade and went with a bang! The standout of the year is "The Cook The Thief His Wife and her Lover", Peter Greenaway's passionate and angry dissertation on the rich, vulgarian, Philistine, anti-intellectual stance of the cultural situation in Great Britain during Margaret Thatcher's premiership. The film, a feast on the eyes and a punch to the stomach, was denied an R rating in the USA and had to be released unrated, which took away most if not all chances to be seen by a wider audiences. It remains one of the highlights of Helen Mirren's career. Also in 1989, Helen was seen opposite Paul Scofield in the wonderully photograped "When The Whales Came" and in the television thriller "Red King White Knight" opposite Tom Skerrit and Martin Landau. On stage, she headlined Arthur Miller's "Two-Way Mirror" alongside Bob Peck, playing two parts in two separate stories.
"The Cook the Thief his Wife and her Lover" was denied an R rating by the Motion Picture Code and Ratings Administration. Helen Mirren took a flight to argue that she had not made a dirty movie. "I told the board they absolutely could not legitimately criticize this film on its artistic merit," she said. "It may be pretentious, or boring, or whatever they want to say about it, but they can't deny where its heart is." They could, and denied the appeal. "The whole R rating depends on a strange sort of fantasy land," she said, "where all adults are responsible people, and children only ever go to the cinema with their parents. They don't go with babysitters or older brothers, or with the local drug dealer. It's this lovely sort of apple pie fantasy America, that not only doesn't exist in America, it doesn't exist anywhere." Miramax ultimately went with the unrated option, and included a conspicuous "For adults only" warning in the advertising campaign – calling it "the most controversial film of the decade".
Related Productions
November 25, 1989
October 20, 1989
October 13, 1989
January 01, 1989 - April 19, 1989