The Archives: 1999
Helen Mirren supports the causes of Oxfam with a trip to South Africa. As an actress, she receives praises - and another Primetime Emmy Award - for her performance as author Ayn Rand in the Showtime telepic "The Passion of Ayn Rand". She is shown at the ceremony's after-party with Jodie Foster.
In 1999, Helen Mirren joined Showtime for their ambitious portait of Ayn Rand, the critically regarded as a highly unique writer and thinker, the creator of controversial works like "The Fountainhead" and "Atlas Shrugged". Her clarion call for individual freedom and societal revolution has attracted a devoted following of a near-worshipful nature. As fascinating an artist as she is, however, what makes this intelligent and dramatic study work on so many levels certainly begins with the portrayal by Helen Mirren. So completely does Mirren infuse this performance with her own marvelous energy and eccentricity that itís impossible to conceive of another actress playing Rand. Director Christopher Menaul makes this period piece ring with contemporary issues as he dramatizes this literary iconís life. The film begins at the end of the 1940s just as Randís world is being transformed by fame. It was indeed a triumphant performance, one that Mirren ranks among her favorites of herself. In September 1999, she received the Primetime Emmy Award as Best Actress, alongside Golden Globe and Screen Actors Guild Award nominations in 2000.
Ayn Rand (1905-1982) was a Russian-American writer and philosopher, known for her two best-selling novels "The Fountainhead" and "Atlas Shrugged". Literary critics received Rand's fiction with mixed reviews and academia generally ignored or rejected her philosophy, though academic interest has increased in recent decades.
I think it's the first time that Helen really been given the opportunity to make herself ugly. Not just physically ugly, it was an ugly character. A brutal character. She was very gently slapping me, sort of giving me little pats. And I said, 'no really, you can hit me', because the camera's right here, I want to feel like I've been hit. Not knowing what I was going to unleash. She whacked me, I felt my brain waddle and I think her hand mark was on my face for the next three days. She really is a strong woman. Helen is worshipped as an actress. People are falling over themselves trying to get her being in their films. And they should. There's no one like her. (Eric Stoltz, Hollywood Greats, 2007)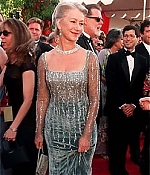 Mirren would also be the center of attention - or hate - in Kevin Williamson's teen horror comedy "Teaching Mrs. Tingle" - an effort of bad taste and timing. The film was originally to be called "Killing Mrs. Tingle". The events on 20 April 1999 at Columbine High School (Littleton, Colorado, USA) in which 13 people were murdered by two of their own classmates, prompted the name change. "Teaching Mrs. Tingle" was released on August 20 to mostly negative reviews. Roger Ebert wrote, "Helen Mirren is a very good actress. All too good for "Teaching Mrs. Tingle," where she creates a character so hateful and venomous that the same energy, more usefully directed, could have generated a great Lady Macbeth. She is correct to believe that comic characters are best when played straight. They depend on the situation to make them funny. There is nothing funny about the situation in "Teaching Mrs. Tingle."
Helen Mirren has had mixed fortunes on the London stage during the 1990s. She was sensational in "A Month in the Country", but even most loyal theatregoers shudder at the memory of the witless farce "Sex Please, We're Italian", while her long overdue return to Shakespeare in "Antony and Cleopatra" was ruined by a dud production and Alan Rickman's weirdly disengaged performance as her lover. So, as the Telegraph wrote in its review, "it is good to report that Mirren is back in a show that gives scope for her talent to shine. Collected Stories isn't quite as wonderful as its American author, Donald Margulies, makes it sound in his hilariously self-satisfied programme note, but it is an involving, intelligent and at times touching drama. Like David Mamet's Oleanna, and Willy Russell's Educating Rita, this is a two-hander that explores the relationship between teacher and pupil. And, like those earlier plays, it memorably shows how the balance of power shifts between age and youth, experience and apparent innocence."
Productions (4)
November 10, 1999
August 20, 1999
May 02, 1999
January 27, 1999